One thing I didn't get to touch on much in my Beginning Homeschooling talk last Saturday at the Minnesota Catholic Home Educator's Conference was scheduling.
Here's my slide titled
Schedules - for the Kids:
¨

At a minimum, make a checklist

¨

Have a school calendar (wall calendar works well)

¨

Make your kid's schedule



¤

Monthly, Daily or Weekly




¤

Free Homeschool Scheduling Software




¤

Cater to their age




¤

Include outside activities




¤

School to-dos




¤

Chores




¤

Things they can do if you are busy




¤

Snacks that are okay to have if you are busy
¨

Go over it weekly! Remember Monday and Thursday!
If you are looking for a way to schedule and lesson plan for free, please check out the great FREE homeschool software at TG Homesoft. You can upgrade to the Plus Edition, which is what I use. They have an entire page dedicated to the differences. It is reasonably priced and upgrades are free once you have purchased the Plus Edition. Here are a few screen shots:
This is a full featured software that allows you to start at a very high level and work your way down to very specific details about your child's school work.
I print out my children's assignments on Sunday night. On Monday morning, I have time set aside to discuss their assignments. We agree on what needs to be done by Thursday morning. On Thursday morning, I check back in with them to see how they are progressing on those activities they needed to do on their own. We are also do it for me, too, because sometimes the circumstances of having six children ages 12 and under, running a house and keeping up with everything distracts me from my job as a teacher. It's a good accountability check for all of us. So, if I have to miss doing a Spelling lesson or working with someone on a project, this is our time to check ourselves before Friday.
One other important thing I would like to mention is that your schedule should be displayed in terms your children can understand. Now that my three oldest are readers, they can explain upcoming events to the younger ones, but I used a picture chart for a long time with my kids. I got this idea from the clinic where my oldest attended Occupational Therapy for his fine motor skill challenges. They used this type of schedule with children with Autism. It works fabulously with non readers. Here's an example: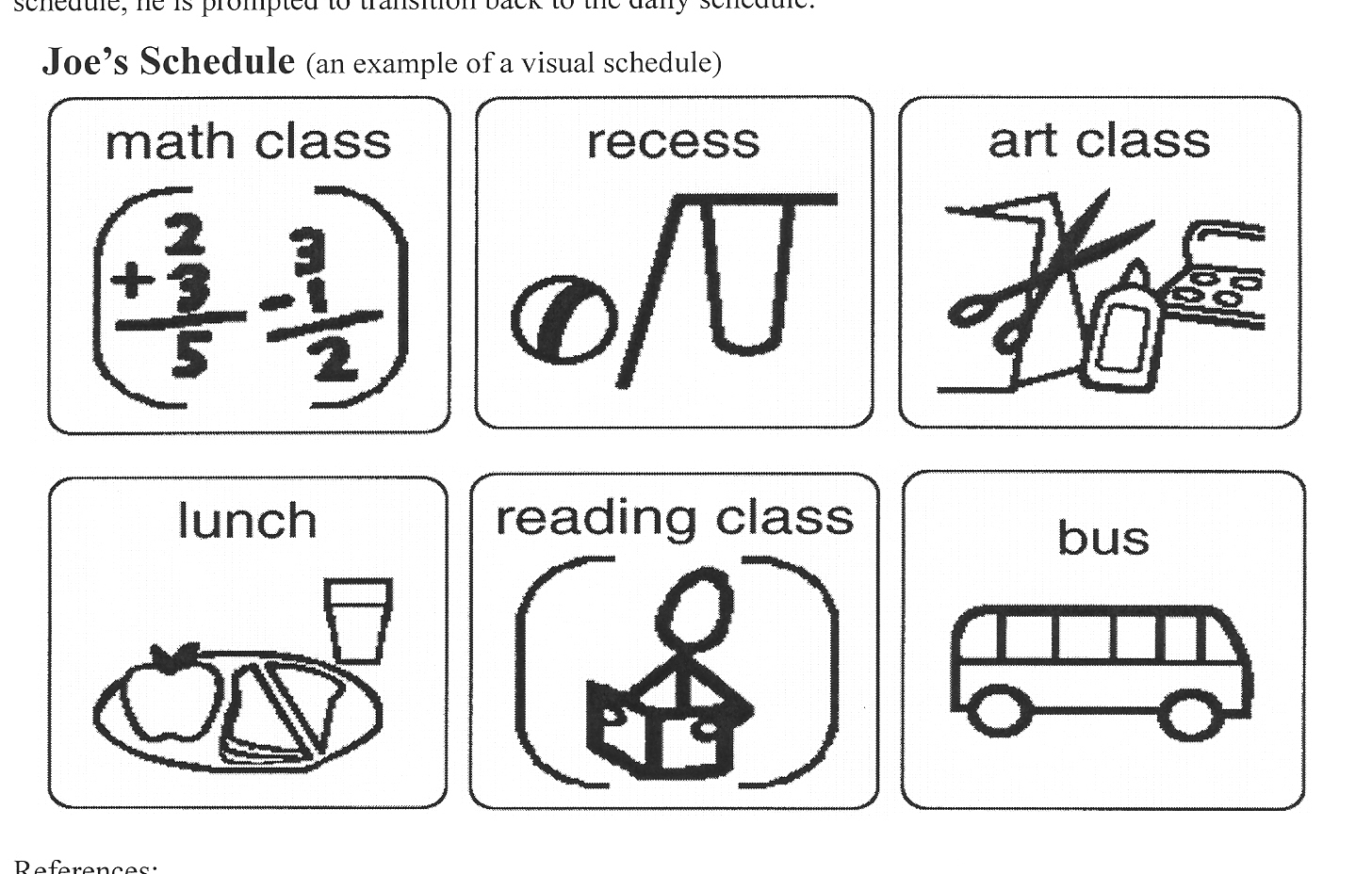 This minimized the inevitable "What are we doing today?"
If I can't picture it. I can't understand it.
Albert Einstein
I will be posting some info from the Get Your Game On! Seminar next. Have a great day!